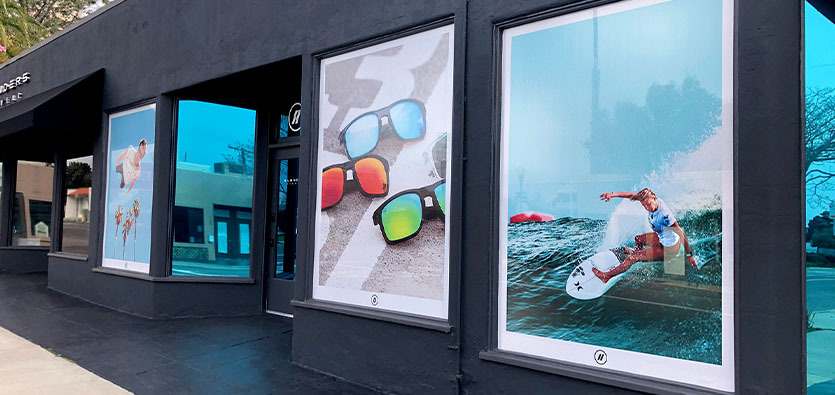 Window decals have become an important marketing strategy, now more than ever businesses are promoting their business by putting business decals on their windows.
A statement window decal made by a certified decal company grasps the attention of passersby and generates a huge amount of leads for your business.
With the perfect design and proper installation, your window graphics will give you more advertising opportunities that will generate more potential leads.
One advantage of window graphics is that they are weather-resistant and cost-effective.
So, with only spending a minimal amount of money you can make a huge difference in your business leads and sales, but make sure that you hire a certified sign company for the job.
Also Read: A Sign Promotion: A Reputable Sign Company In Edmonton
When you decide to get window graphics for your business the first thing that might come to your mind is which graphic should you go for.
There are two types of window graphics: perforated and opaque graphics. In this blog post, we will discuss both of them in detail to help you decide which one is better for you.
Perforated Window Graphics
If you have large-sized windows and you do not want to block all the natural light then see-through windows or perforated windows graphics are the best option.
Perforated window graphics will provide your business with signage that will allow the natural light to pass through it.
Some perforated window decals are less opaque and allow more light to pass through them, while some will allow only a limited amount of light to pass through them.
Perforated window graphics do allow light to pass through them but along with that they provide excellent privacy to your business.
Here are the two types of see-through window graphics you can choose from:
Perforated Vinyl
If you want to cover your business windows with decals but still want your customers to be able to see outside then you should go for perforated vinyl graphics.
You should get your vinyl perforated graphics done by a certified sign company as they will have trained professionals who will use a mesh-like perforation and give a one-way visibility effect to your graphics.
These windows graphics will provide privacy to your business and will also allow you and your employees to enjoy the view.
So perforated vinyl window graphics are perfect for businesses like hair salons, gyms and daycares.
Transparent Vinyl
Transparent vinyl window decals do not provide any privacy to your business. So if you want your potential customers to be able to peek into your store then you should go for transparent vinyl window signage.
The transparent vinyl graphics come with two adhesive options.
The first one is a surface decal that comes with adhesive on the backside and goes on the outside of the windows. While the second one has adhesive on the front and goes on the inside of windows.
Most people prefer the second type of adhesive as they are more long-lasting than the first option.
Opaque Window Graphics
If you want privacy for your business then you should get frosted vinyl decals. You can use these window decals to fully cover your glass windows and create a safe, and private environment for your customers and employees.
These frosted vinyl window graphics will not let anyone see the inside of your business from the outside and will provide excellent privacy to your customers and employees.
Advantages Of Perforated Window Graphics
The following are some of the benefits of perforated window graphics:
Natural Light- The perforated window decals will let in plenty of natural light.
Privacy- Along with the natural light these decals also provide privacy to your customers and employees.
Advantages Of Opaque Window Graphics
Here are some of the benefits of opaque window graphics
Privacy- The biggest advantage of getting frosted vinyl graphics or opaque graphics is that they provide complete privacy to your customers and employees.
Decor- These window graphics enhance the overall look of your business.
About A Sign Promotion
A Sign Promotion provides you with the best window graphics, whether you are looking for perforated graphics, privacy graphics, or simply informative graphics. We put effort into our process to make our designs capable of fulfilling all your needs while being aesthetically pleasing.
Contact Us now to get window graphics customized for your business to actively enhance your business's customer attraction and profitability.