Flat Signs
We use various types of materials to build signs that match the needs and requirements of our customers. Flat signs can be used for a number of purposes including directional, street display, address display, and yard display. If you are looking to get flat signage for any purpose in Edmonton, just give us a call and let us know your requirements.
Sign Panels
Years of experience in this industry enables us to recommend from a selection of sign panels that includes aluminum, corrugated plastic, PVC, and foam board signs. We understand the value of custom printed sign panels and we do our best to deliver the best to our customers in Edmonton. We ensure that all of our products are built with top-quality material. Feel free to talk to us about your signage needs!
Sign Replacing
One of our proud services includes replacing sign boards. Some businesses have to constantly modify the information on their signage for specials or monthly features. For this, we build replaceable and changeable signs that can easily be updated whenever required. If you think you need to update or replace your sign in Edmonton, A Sign Promotion would be glad to help you. Call Us!
Banners
A Sign Promotion specializes in creating high-quality custom banners of all sorts. Our banner experts use creative design concepts to print vinyl banners and other signage products. So you do not have to worry about the quality and visual appearance of your banners. We will take care of it. Feel free to call if you are looking to get amazing banners and other sign products in Edmonton.
3D Lettering
3D lettering can certainly help you stand out from the crowd. Being among the best sign companies in Edmonton, we create three-dimensional signs using formed plastic, flat cut metal, laser cut acrylic etc. We have already served many businesses with incredible 3D signs. It's time for you to get 3D lettering for your business to enhance your visibility. Call us to get carefully designed and affordable signage in Edmonton.
Window Graphics
In the competitive retail environment, a glass window provides you an opportunity to promote. Whether you are looking for privacy or promotion, our glass decals and window graphics will meet your needs. It's time to make good use of your glass windows, doors, and walls. Turn them into vibrant information and eye-catching graphics. Call now to get more information on our window graphics and other products.
Hours Of Operation
Your customers should be aware of your hours of operation in order to avoid inconvenience. We offer a variety of signage options that you can choose from to display important information like open and closed time, rates, offers, etc. You can use your windows, doors, walls, or banners to display such information. Give us a call for a free quote!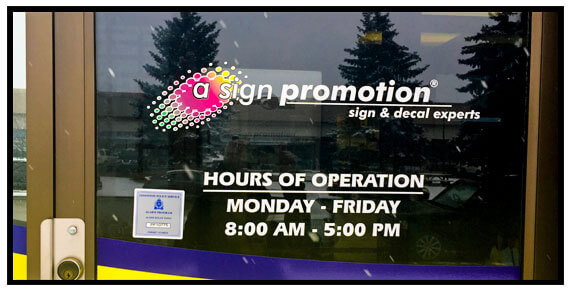 A Boards
A Sign Promotion specializes in producing A-frame signs for retail and leisure environments. We always use quality materials which last for long periods of time. A-boards are A-shape standing signs, also called sandwich signs, are commonly used for promotional and educational purposes. They can be placed anywhere as they are a easy-to-move kind of display. Get your A-boards and other signage products today, Call Now!
Feel free to discuss your signage needs
Get your custom signs today!
REQUEST A QUOTE
Copyright © 2023 A Sign Promotion. All Rights Reserved. Terms & conditions | Privacy Statement | Sitemap