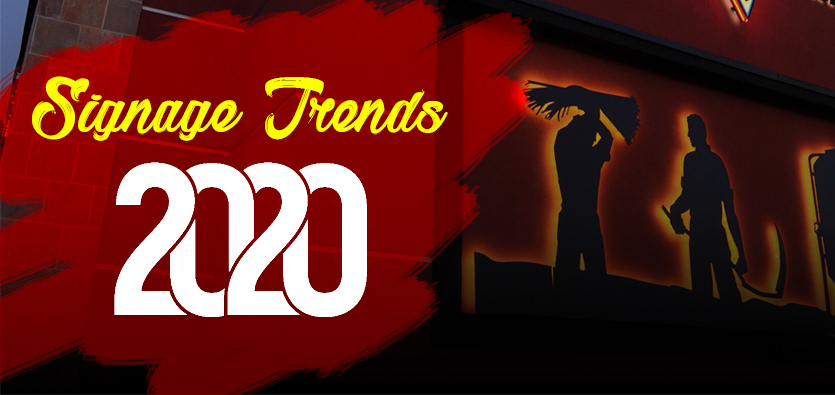 In today's day and age, we're living in an experience-driven world where brands have to engage, inspire, and create those insta-worthy moments to succeed. While technology is reshaping the way businesses use offline signage to attract and sell, you have to create a mix of simplicity, technology, and authenticity to make the most of your business signs. Let's explore some of the important signage trends you must watch for in 2020 and beyond:
With emerging marketing technologies and tools, companies are creating more integrated marketing campaigns. The integration of offline and online world creates stunning user experiences. While savvy customers have high expectations and want to stay in control, the possibility to combine both online and offline advertising efforts can help you offer personalized shopping experiences.
Dynamic and Interactive signage
Digital signage has been dominating the offline marketing world for the last few years. The digital means to display content opens new possibilities for businesses to be more creatively expressive. However, it's not affordable for every business to use digital to get their message across. While the demand for digital signage is on the rise, you should have a sound strategy and message to generate a higher ROI. 2019 has already been connecting the traditional signage world with digital displays.
Vinyl banners
When it comes to affordable and effective business advertising signs, vinyl banners will continue to be a signage trend in 2019 and beyond. Vinyl signs have the power to effectively display your offerings and attract large crowds. You can create a vinyl banner of any size and shape depending on your preferences and limitations. Vinyl banners can be used both indoor and outdoor at ideal locations.
It's critical to choose the right location for your vinyl banners. You should place them at a point where they tend to get maximum exposure. For example, a vinyl banner can be placed in front of a table at an exhibition or at the back of a booth at trade shows. If you want to advertise your products or services to the masses, you can place them at an outside location such as supermarkets or bus stops to win the attention of crowds. Don't forget to integrate your branding elements into your signs to make them more effective and memorable.
Mesh banners
Most businesses have to use boundaries, fencings, and outdoor locations to display their message. Mesh banners are great for these kinds of advertising campaigns. They are made of light fabric with small holes in them. Coated with weather-resistant materials, mesh banners can withstand the harsh outdoor environment.
About A Sign Promotion
A Sign Promotion is one of the most trusted sign companies in Edmonton. We provide businesses with top of the line signage products that include a variety of banners, decals, vehicle wraps and graphics, and much more. Contact us for more details!